Cleanliness technology prize awarded
On 10th June at the parts2clean trade fair in Stuttgart, in recognition of exceptional developments in the cleanliness industry, Fraunhofer IPA awarded the cleanliness technology prize CLEAN for the third time! This year, the jury was won over by two contributions: an innovative particle-cleaning system with an integrated photodynamic process for disinfecting cleanroom clothing, and a cleanliness measuring system that uses vacuum-induced desorption to detect filmy contamination on surfaces. The prizewinners presented their contributions at the forum and received their awards from the experts and jurors Dr. Lothar Gail and Prof. Arnold Brunner.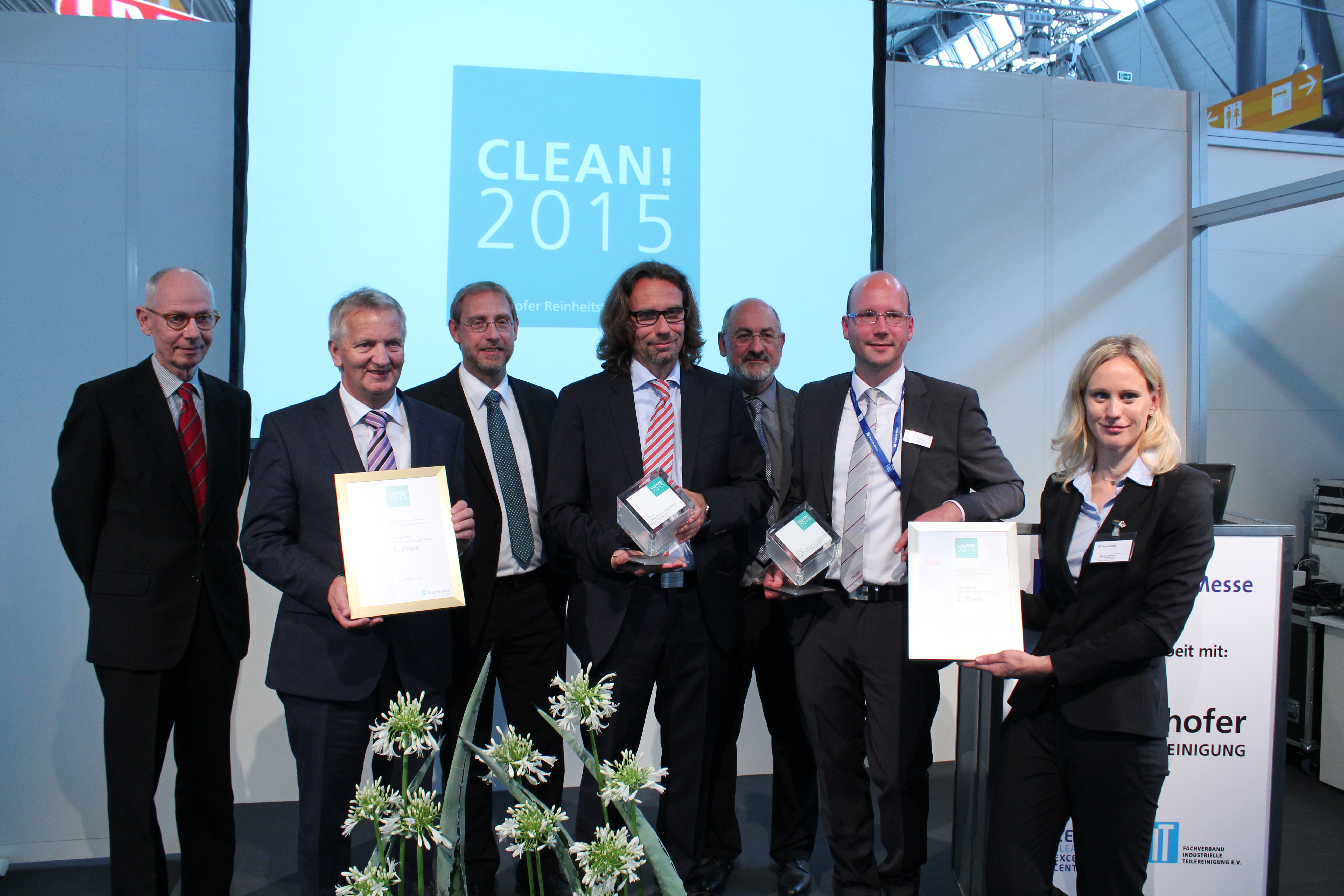 1st prize: Disinfection of cleanroom clothing by means of light – dastex Reinraumzubehör GmbH & Co. KG
With the system "Disinfection of cleanroom clothing by means of light" for use in manufacturing and research areas where biological contamination plays a major role, the research and development community has taken an innovative step into the future of cleanrooms. The concept of implementing a specific fabric dye to produce oxygen by light induction at the point of use, i.e. in the immediate vicinity of microorganisms, is highly promising. In order to develop a ready-to-use product capable of withstanding the rough conditions of everyday industry, the cleanroom clothing specialist dastex collaborated closely with the dye manufacturer M. Dohmen, the equipment manufacturer Ortner Reinraumtechnik and researchers from the Technical University of Graz and RCPE Graz.
In his laudatory speech, Prof. Arnold Brunner from Luzern University judged the result as exemplary. "The cooperation has implemented a sustainable technology to create an innovative clothing system suitable for industrial use, which is capable of controlling germs on the surface of textiles, i.e. of killing them. The jury considers this lock- and clothing system to be compatible for use in biological laboratories, C and D Class pharmaceutical cleanrooms, as well as in packaging areas in the convenience food industry. The attributes of the new system – its suitability for industrial use and sustainable and interdisciplinary development – make it a model of clean-tech innovation."
2nd prize: VIDAM – A new in-house cleanliness measuring system – VACOM Vakuum Komponenten & Messtechnik GmbH
In many branches of industry, cleanliness is an important quality criterion as far as reproducible processes are concerned. Knowledge of component cleanliness is essential in order to assess the effectiveness and efficiency of cleaning processes, thus ensuring the consistently high quality of end-products. In a fully-automated process, VIDAM detects filmy contamination on the entire surface of components. The spectral measuring technique not only clearly identifies contamination on surfaces but also classifies its cause. In addition to this, VIDAM supplies absolute, quantitative measurement figures that enable meaningful limiting values to be defined. This enables manufacturing and cleaning processes to be optimized to guarantee adequate component cleanliness for all downstream processing steps. If controllable, reproducible and guaranteed quality are to be attained, this is essential. In his laudatory speech, Dr. Lothar Gail remarked praisingly: "The measurement of airborne particles by means of scattered light has significantly contributed towards the advance of modern cleanroom technology. Up till now, there have been no comparable standards for filmy contaminants, a form of contamination which is highly relevant in this field of industry. The stricter the cleanliness requirements, the higher the number of possible disruptive interactions exist due to contamination. The VIDAM process can therefore be considered as an important step that covers a broad spectrum of contamination control requirements, from troubleshooting right through to the inspection of incoming materials."