Interested companies and research institutes can join the Innovation Center
Technology for the smart labs of the future
Today, laboratories often resemble a traditional manufactory structure. Devices and processes are not connected and valuable samples are often processed manually by employees. For a long time, this system has been sufficient to maximize the innovative strength of laboratories. However, they now generate much more data and the familiar model cannot keep up with this increased complexity. At the Innovation Center for Laboratory Automation Stuttgart, nICLAS for short, Fraunhofer IPA and industry partners are developing new technologies for the smart laboratory of the future. The team will introduce itself for the first time at the nICLAS forum in Stuttgart on March 23.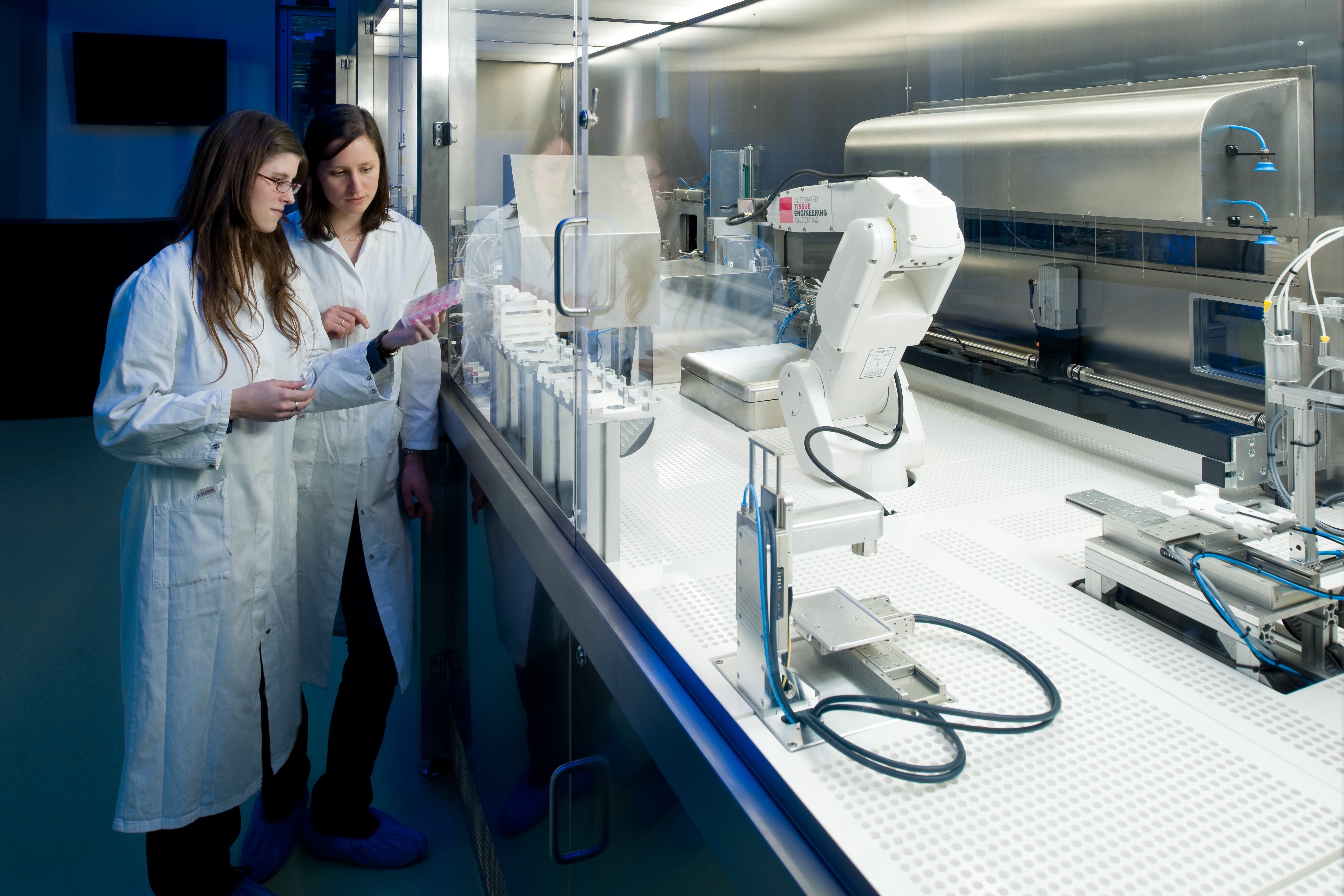 Currently, automation solutions have only been introduced in a fraction of laboratories worldwide. One reason for this is the strict regulation as well as the sheer variety of everyday lab processes which are non-standardized. nICLAS Project Leader Mario Bott at Fraunhofer IPA: "Samples and products which are processed in laboratories are subject to strict quality requirements. Establishing new technologies is therefore expensive and time-consuming for companies." Additionally, the manual working environment of laboratories was advantageous for many years, as processes could supposedly be adapted more flexibly and quickly than would be the case with automated devices and platforms.
Laboratories are becoming data factories
Gradually, companies are starting to rethink this, as Bott explains: "Laboratories are increasingly turning into networked data factories which are an integral part of the company interface, be it diagnostic laboratories, the lead discovery for new drugs or quality control and product approval. They generate information which is extremely valuable for corporate management." Moreover, laboratories are facing new challenges from the growing personalization of products and processes via personalized diagnoses and therapies. In order to get to grips with emerging complexity, sustainable, modular solutions must be developed for hardware and software systems. This is where nICLAS comes in.
The Innovation Center at the Fraunhofer Campus in Stuttgart offers companies and research institutes a platform for networking and developing innovative technologies and automated solutions together. Among the project members, there are representatives from industrial end users and developers as well as partners who bring research and academic education into the mix. The project leader adds: "The interdisciplinary scope of duties means that a multidisciplinary team is necessary in order to successfully compete at an international level. This is why we are delighted to have found strong partners in Precise Automation, Tecan, LiCONiC, Thermo Fisher Scientific, Promega and Festo, who provide us, for instance, with the latest devices and innovative technologies for collaborative development." This means that the team can always rely on the latest equipment and the necessary expertise to create the foundations for the laboratory of tomorrow.
Virtual laboratory and networked research
The nICLAS FutureLab has already provided some initial stimuli and food for thought. For example, there are applications in the field of intralogistics for tracking materials. The project leader Bott explains: "This means the position of valuable samples or patient material is always known. The digital record can be a great help for laboratory staff when it comes to planning, process monitoring and documentation." A second area of focus is human-machine interaction in regulated environments. For example, TeachIt substantially simplifies the teaching process for robotic solutions. The project team is also investigating how augmented reality could be introduced to support regulated processes. Bott gives an example of this: "In many laboratories, the central information and documentation interface is still a handwritten lab journal. With augmented reality, employees could in future be shown any necessary information when it is required and on a personalized basis." Furthermore, experts are tackling the question of how laboratory processes can be virtualized through service-oriented platforms. For example, ordering cell systems via a lab store is being tested within the Cell-Share project. The result is quick, economical and uncomplicated for customers.
The Fraunhofer-Gesellschaft is providing startup funding of over EUR 600,000 for nICLAS. Interested companies and research institutes are able to join the community so that together we can create the laboratory environment of tomorrow. The launch event on March 23 provides the first insight into nICLAS and enables participants to get to know the project partners on a personal level.
For information and registration, visit: http://www.ipa.fraunhofer.de/niclas_forum.html
About nICLAS: http://www.ipa.fraunhofer.de/en/niclas.html