Researchers simplify installation and programming of robot systems
In the past, European small and medium-sized enterprises have often clearly held back when it comes to implementing robot technologies. The reasons cited for this are that they are too expensive, too inflexible, and installation takes far too long. Within the European research project »Factory in a Day,« an international team of researchers and industry representatives has revealed new ways to install, program and commission robot systems within just 24 hours in future. In this context, the Fraunhofer Institute for Production Technology and Automation IPA has decisively simplified the operating software.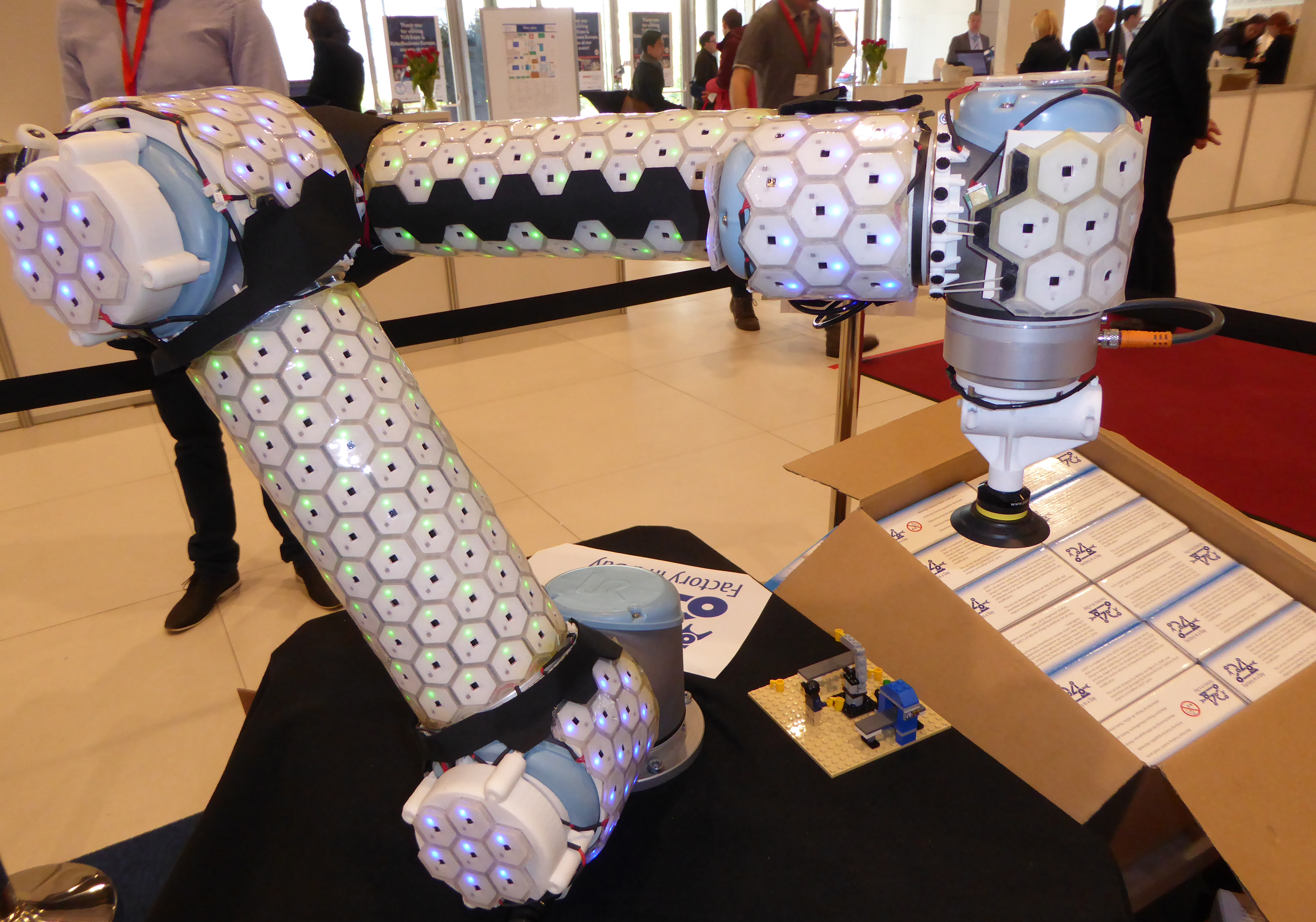 Today, robot systems still often present one significant disadvantage: they are too inflexible when it comes to economically producing small batches or individual customer specifications. Programming industrial robots to introduce new assembly functions is time-consuming, and as such is a cost factor that small and medium-sized enterprises (SMEs) often cannot absorb. However, many operators also balk at the purchase costs and lengthy installation.
In the European research project »Factory in a Day,« researchers, robot manufacturers and system integrators worked together to significantly reduce the cost and time needed to install robot systems, thus making them much more appealing to SMEs. For instance, the project partners were able to develop a demonstrator called the »Giftbot,« with which it is now possible to efficiently and cost-effectively assemble and send an individual gift box, even for small order quantities. To do this, a robot arm packs completely different items into a box, all with the same gripper, which can be used flexibly.
Reusable software building blocks simplify robot programming
Mirko Bordignon describes Fraunhofer IPA's role: »My colleagues and I took on the role of integration partner, meaning that we prepared the software framework that the project partners used to program the ›Giftbot's‹ motion planning, for instance.« The open-source software ROS-Industrial (ROS = Robot Operating System) was then put into use by Fraunhofer IPA researchers, together with other scientists and software developers from the global community, created reusable software components and tools. These ready-made program building blocks make it much easier to program an industry robot.
Significant time and cost savings
Project coordinator Prof. Martijn Wisse from Delft University of Technology summarizes: »We were actually able to significantly reduce the costs and time needed to install robot systems. However, the project has shown that with our current level of technology, single-day installation remains a goal for the long term.« Nevertheless, the international team has achieved a great deal of noteworthy results, which have been presented by the researchers in a video on YouTube.
The follow-up project ROSIN was already launched on 1 January 2017, and pursues the fundamental concept of »Factory in a Day«. The open-source software ROS-Industrial is to become the standard for industry in Europe, thereby simplifying factory automation. To this end, the project partners, including Fraunhofer IPA, will pursue three main activities: ensuring that the software is at a level where it can be used by industry, providing 33% of the project budget for users and business-relevant developers and offering advanced training for students and industry partners.
Profile
European research project »Factory in a Day«

Duration: 1 October 2013 to 30 September 2017
Website: http://www.factory-in-a-day.eu/
Funding: The European Union has provided the research project with funding amounting to around EUR 11m from the seventh framework program for research and innovation funding.
Project partners: Delft University of Technology (Coordination), Technical University of Munich, KU Leuven, Fraunhofer Institute for Production Technology and Automation IPA, Fraunhofer Institute for Production Technology IPT, French National Center for Scientific Research, Philips, Randstad, Siemens, Materialise, Universal Robots, Lacquey, Factory Control, EMP Tooling Services , Delft Robotics, PAL-ROBOTICS.
Additional information: https://youtu.be/DU-y0KH41HI